Required Router Configuration – For NETGEAR Routers
Step 1 – Resetting
* Connect the power cord
* Unplug ALL Ethernet connections
* Hold down the reset button for at least 15 seconds
(All Routers have reset button, though they maybe smaller or in different places on the backside)
Step 2 – Cable Setup
Connect your computer (PC or MAC) to any one of the LAN ports, only
DO NOT connect the wall port to any port on the Router yet!
DO NOT use the WAN port
Step 3 – Accessing Router
# Open Internet Explorer (with the computer connected to the Router)
# Enter 192.168.1.1 into the Address Bar, push Enter
# If 192.168.1.1 does not appear to work, try 192.168.0.1
# Under the Username field enter "admin"
# Under the password field enter "password"
# Click "OK"
Step 4 – Default Screen
Depending on what version of Netgear Router you have, there might be a setup wizard. Follow the wizard's steps until you reach this screen
Step 5 – Configure Wireless SSID & WEP Security Key
*If your Router does not have Wireless Capability, or you do not wish to configure wireless security, please skip this step
* Click "Wireless Settings" on the left bar
* Enter a desired name into the "Wireless Network" subsection under "Name (SSID)" field
* Write down your Wireless Network SSID, it will be used for later.
* Under the "Security Options" subsection, bubble "WEP (Wired Equivalent Privacy)"
* Under the "Security Encryption (WEP)" subsection, select "128bit" in the "Encryption Strength" field
* Under the "Security Encryption (WEP) Key" subsection, enter a desired phrase/word into the "Passphrase" field
* Click "Generate"
* Carefully write down the code generated in the "Key 1" field on paper, and store it in a safe place. THIS IS YOUR WEP KEY, it will be needed later on.
* Click "Apply"
Step 7 – Disable DHCP
**Failure properly complete this step may result in suspension of internet service
* Click "LAN IP Setup"
* Uncheck "Use Router as DHCP"
* Click "Apply"
Step 8 – Final Cable Setup
* Connect your computer (PC or MAC) to any one of the LAN ports, only
* Connect the wall port to a LAN port on your Router
http://plone3.trueblade.com/knowledge/using-wpa-psk
Wi-Fi Protected Access with Pre-Shared Keys (WPA-PSK) is an improved way to secure your wireless Internet access device. In this article we discuss WPA-PSK on the Netgear WGR 614 Wireless Router.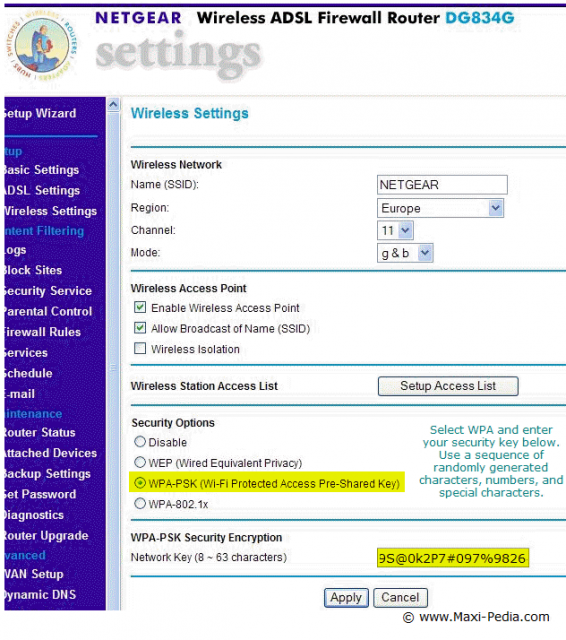 Until now, the common way to restrict access to your wireless Internet was to use Wired Equivalent Privacy (WEP).
However, WEP was discovered to have security flaws, so a new way of securing wireless Internet traffic, WPA-PSK was developed.
Recent versions of Windows XP have a patch, Recommended Update 815485, that enables computers with the patch to use WPA-PSK.
Initially it was difficult to get WPA-PSK to work correctly, but newer wireless routers such as the Netgear WGR 614 make it easy to use WPA-PSK. Note: I have upgraded the firmware of my WGR614v6 router to Firmware Version V1.0.11_1.0.7NA, available from Netgear's Support Website.
Login to the WGR 614's main configuration page and select the Wireless Settings option. In the section marked Security Options, choose the WPA-PSK radio button (as shown in the diagram on this page) and the Security Encryption (WPA-PSK) section will open on your screen.
Type a Passphrase of up to 63 characters that you won't forget.
You can leave the Key Lifetime at the default setting of 60 minutes or set it to a shorter lifetime (more secure) or longer lifetime (less secure). Netgear's online help says: "Shorter periods provide greater security, but adversely affect performance." My own experiences with my Dell Inspiron 700m laptop are that there was no performance difference when I changed the Key Lifetime from 60 minutes to 10 minutes.
The first time you connect each new laptop to your Wireless Internet, you will be asked to type in this same passphrase. This is a big improvement over WEP, where you had to remember the computer generated key and type that into your laptop, twice, not the easy-to-remember passphrase.
Overall, WPA-PSK offers improvement and ease of use and security as compared with WEP. If WPA-PSK is available on your wireless router and your laptop computers support it, we suggest you use it. If you have different experiences with WPA-PSK or would like to add your own comment, please login and write your comment. If you're not yet a member of our website, please join and then write your comment.
Document Actions
---
Permissions in this forum:
You
cannot
reply to topics in this forum